Can I Collect Unemployment If I Get Fired in Canada?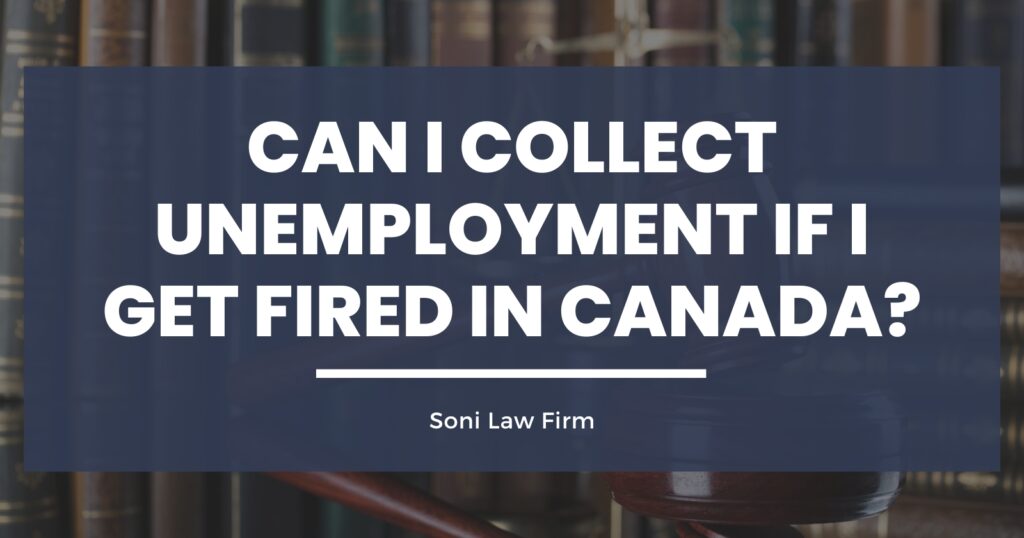 Answer:
In Canada, employees who are employed in insurable employment and lose their job through no fault of their own are generally entitled to receive employment insurance (EI) benefits.
This means that employees who are fired without cause or are laid off can access support while looking to find work. Employees who have lost their job should be aware of EI eligibility criteria as not everyone will qualify for employment insurance benefits.
At Soni Law Firm, we are the employment lawyer Toronto employees turn to when looking for support with denied government employment insurance claims. We are often asked by our clients; can you get EI if you get fired Though it is true that employees who have had their employment terminated with cause are ineligible for EI, there are some things you should know. In this post, we go in-depth to help answer the question, can you collect EI if you are fired in Ontario or Canada with cause?
Contacting a termination lawyer is always a good idea when you have been dismissed with cause. See our information below and contact a member of our team to make sense of the question, if I get fired can I collect unemployment in Canada? We are the employment lawyer you can count on when looking for help with knowing whether your EI claim will be denied.
Know Your Rights: Book Your Free 15-Minute Phone Consultation
Frequently Asked Questions About Employment Insurance
Can You Get EI With Code M on Your Employment Record?
If your employment record has a code M listed, you may be wondering, can I get EI if my ROE says dismissal? Having Code M on your record of employment signals that you have been dismissed from your employment though it does not always mean that you have been terminated with cause.
Code M is used by employers when an employee has been terminated with cause as well as when terminations occur during a probationary period of employment. Having a code M on your record of employment does not mean it will be impossible to claim EI. However, if your employer has not indicated that the dismissal was without cause, this can complicate your claim. If your employment insurance claim was denied for any reason, the experts at Soni Law Firm can help you obtain the employment insurance benefits you deserve.
Can You Collect EI If You Are Fired?
Many employees who have been terminated from their place of employment ask us, can you apply for EI if you get fired? Though anyone may apply for EI, the application may be denied if the employee does not meet the requirements for obtaining EI benefits. Employees who have voluntarily left their job or have been fired with cause will not qualify for EI benefits.
As being fired with cause can impact your ability to claim employment insurance benefits it is important that you understand and protect your rights as an employee. If you feel that you have been unfairly or unjustly dismissed, speaking with an employment lawyer is an essential next step before claiming EI. Employees who want to know, do you get EI if you get fired should know that with cause dismissal will result in not qualifying for EI benefits and should be aware of claims employers make against them.
What Should I Do If I Feel I Was Wrongfully Terminated?
When asking the question, can you get unemployment if you get fired, many employees are simply looking for help with navigating what to do when they are terminated. At Soni Law Firm, we have experience with helping our customers navigate wrongful dismissal claims and are the wrongful dismissal lawyers you can count on if you feel you have been wrongfully dismissed. Being dismissed with cause will make it impossible to claim EI and is something that both employers and employees should take seriously. To protect your rights as an employee when terminated with cause, contact the experts at Soni Law Firm.
Why Soni Law Firm
Soni Law Firm is a boutique employment, human rights, and labour litigation firm. We provide our clients with expert counsel for all types of employment situations including unionized workers and contract employees.
We are a well-established firm with a strong track record. If you are a contract or fixed-term worker who has concerns about your treatment or rights within the workplace, do not hesitate to contact Soni Law Firm. We are here to help you know your rights and the responsibilities of your employer. Book your free consultation with us today.