Kashyap v. Save Max Real Estate Inc.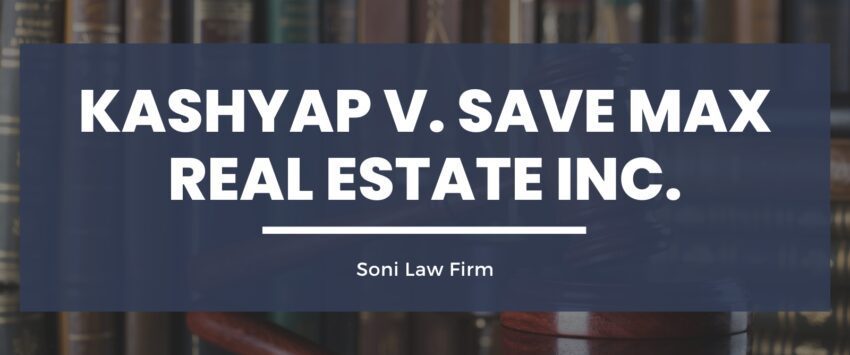 We are happy to share that Soni Law Firm's Rahul Soni successfully argued a Rule 45.02 and particulars motion (Kashyap v Save Max Real Estate Inc., 2022 ONSC 5543 – https://canlii.ca/t/jhd3s), which has been chosen by Thomson Reuters to be in Carswell's Practice Cases as well as its Litigator service. It was selected because their "editors consider it an important case in Practice and Procedure."
Thomson Reuters Letter in [Kashyap v. Save Max Real Estate Inc.]
Mr. Soni argued that our client, Mr. Kashyap, was misclassified by the Defendant, Save Max Real Estate Inc. ("Save Max"), as an independent contractor; in reality, he was an employee and held the official title of Save Max's Executive Vice-President of New Developments.
The Honourable Justice Black accepted Mr. Soni's submissions that Save Max should be ordered to pay monies from my client's real estate commissions into Court under Rule 45.02 of the Rules of Civil Procedure. His Honour noted that "Rule 45.02 should be undertaken sparingly" and held that "the Plaintiff meets the test for a Rule 45.02 Order." Based on our research, this is the first reported decision of a real estate professional successfully obtaining relief from their former employer/brokerage under Rule 45.02.
During oral submissions, Save Max's counsel candidly admitted that Save Max's pleading "was short on particulars" because the "pace of the litigation to this point has been fulsome and frenetic". Accordingly, His Honour ordered Save Max to provide further particulars.
Let's be clear: We will always vigorously advocate for Mr. Kashyap and all our other clients. We will not tolerate litigation delay. We will push so that our clients get the justice they deserve.
David toppled the mighty giant Goliath. Rama defeated the ten-headed Ravana. Even the biggest bullies can be beaten when you have perseverance and the truth on your side.
Feel free to reach out to discuss how we can help level the playing field.