Don't Wait! You Have to Stop Workplace Harassment Now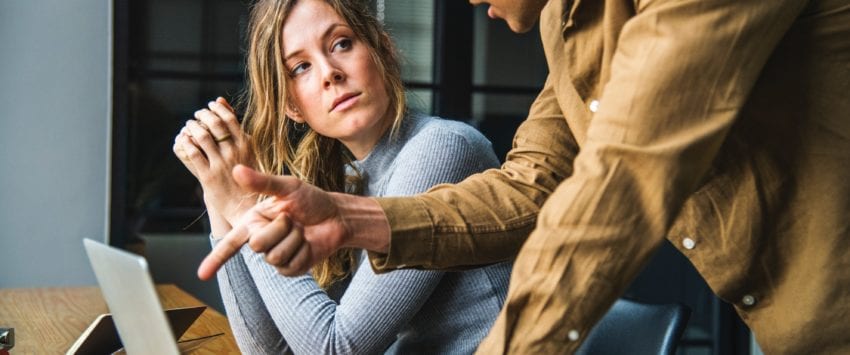 Workplace harassment has been recognized as a serious concern by the government. In fact, the Ontario Occupational Health and Safety Act mandates that employers must investigate suspected harassment.
And no wonder, Statistics Canada's figures of 19% of women and 13% of men experiencing workplace harassment in the past year make for worrying reading. Especially since harassment takes such an emotional and mental toll on a person. Not only is harassment in the workplace unacceptable, it stops you from building a sense of belonging to the organization.
Employers are required by law to investigate workplace harassment complaints.
What is considered workplace harassment?
Workplace harassment and workplace bullying cover everything from unwelcome comments and conduct to sexual harassment in the workplace. Conduct must be offensive, degrading or must constitute mistreatment. It can even be physical acts, such as physical or sexual assault and other workplace bullying. Here are a few examples of what constitutes workplace harassment and workplace bullying:
Hurtful comments about race, religion, sex, age, sexual orientation or other discriminatory remarks
Teasing and innuendos
Unwelcome touching
Sexual harassment
Unwelcome messages, emails and phone calls
Belittling and unprofessional feedback
Intimidation and threatening remarks
Offensive and intimidating humour
Circulating offensive photographs and material
How can I stop harassment in the workplace?
Any workplace harassment lawyer will tell you this: do not tolerate harassment and bullying. Every case of workplace harassment is unique and must be handled correctly. There is a common misconception that staying mum about the mistreatment you are being subjected to will make it blow over in time, or that you will be persecuted for speaking out.
You are entitled to not be subjected to a hostile working environment. There are many ways of addressing workplace bullying. Speaking to the offending person to explain your discomfort is one; however, if you are fearful of unproductive confrontation or reprisal, then alternatives must be considered, including consulting with a workplace harassment lawyer. An experienced lawyer will have seen and addressed what you are going through many times before. They will be able to guide you practically while keeping the best outcomes for you in mind.
Who do I tell about workplace bullying?
Employers in Ontario are responsible for fostering a tolerant and healthy working environment. Your employer is required by law to have a mechanism in place to receive and investigate workplace harassment complaints. You can approach a supervisor, a senior member in the organization or human resources with concerns. If you are unsure about who to approach, speak to a workplace harassment lawyer first.
Your employer cannot fire you for raising a workplace harassment concern. You cannot be demoted, face a pay cut or be 'constructively dismissed' for this reason. If this happens, you can file a wrongful dismissal suit for the same. Courts in Ontario take a very dim view of employers failing to investigate and address complaints of workplace harassment.
Can I be fired for complaining about sexual harassment?
Unfortunately, sexual harassment remains a real workplace concern even today. In fact, the Library of Parliament reports that 1 in 10 Canadians say sexual harassment is 'quite common' in their workplace.
Courts have very little patience for employers that fail to investigate and address sexual harassment complaints. This is especially so if the complaints come from multiple sources and employees with established working histories.
If you are forced to quit due to sexual harassment and your employer's failure to stop such behaviour, you can file a wrongful dismissal suit. Speak to a workplace harassment lawyer immediately if this has happened to you. It is imperative that the full facts be obtained while the matter is still fresh.
What is Bill C-65?
Wide, sweeping changes are on the way with Bill C-65, An Act to amend the Canada Labour Code (harassment and violence), the Parliamentary Employment and Staff Relations Act and the Budget Implementation Act.
The Act, coming into force in late July 2019, introduces a much more proactive approach to preventing workplace harassment, workplace bullying and sexual harassment. Moreover, it will let former employees bring complaints of sexual harassment and violence up to three months after leaving their jobs.
Employers will have to respond to complaints within a set timeframe and resolve them within a few months.
Workplace harassment lawyers
Harassment comes in any number of forms, including physical contact, belittling or snide comments, abrasive behaviour and unprofessional feedback. If you are facing these issues at work, speak to an experienced and trusted workplace harassment lawyer at Soni Law.
We have established a reputation for mature advice and solving problems pragmatically. Get in touch with us now to discuss any employment concerns.