Employee health benefits in Ontario explained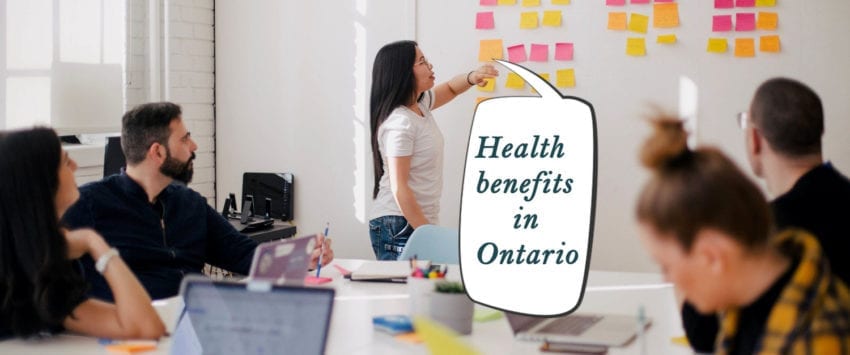 Health benefits were once an almost assured part of working full time in Canada. In recent years, however, fewer and fewer employers offer health benefits to their employees. Many cite the need to reduce staffing costs and keep operational costs low.
Especially with the rise of part-time employment, contractual positions, consulting roles and the 'gig economy', employees too have stopped expecting health benefits as a given. For so many millennials and fresh graduates, health benefits are merely a 'perk' of the job, not a necessity.
For employers, especially start-up and small business, there is a great deal of confusion about offering employees health benefits in Ontario. Virtually every employer has questions like:
Do I have to provide benefits to my employees?
or
Does every employee receive the same health benefits?
The answers to these questions are actually quite straightforward. We'll tell all about the duties and obligations employers in Ontario have to provide health benefits.
Employers offer health benefits to their employees for a number of reasons
Make themselves more lucrative as career options
Offer healthcare coverage not provided by OHIP
As a perk for high performing employees or employees who travel a lot
Legally required to provide coverage for certain types of employees
Health benefit essentials for employers
An employer in Ontario is not legally required to offer health benefits to its full-time or part-time employees. If an employer does provide benefits, it does not have to provide the same benefits to all its employees.
There are a few different types of health benefits an employer can offer.
Health coverage – Extends the coverage provided by OHIP. It can reimburse for an employee's prescription drugs, eye glasses, hospital stay and more
Dental care – Annual dental care plan and provision for dental emergencies
Travel coverage – Provides coverage to employees travelling on company business
Accident coverage – Benefits for an employee if he or she suffers a catastrophic injury at the workplace. Injuries can include loss of limb, paralysis, loss of vision and even accidental death
Disability benefits – Paid out to an employee in the event of his or her short/long term disability. This serves as income-replacement
Group life insurance – Policies that will pay out to an employee's beneficiary in the event of their death
Which group plans are right for an employer depends on the nature of the business.
In recent years, health coverage options in Ontario have become a lot more open-ended. Rather than the employer selecting a fixed plan for all employees, it can opt for 'flexible benefits' or 'health spending accounts'. These let employees select what benefits they want. The employer pays for the base plan while employees can pay for individual add-ons.
Employers can offer different plans to different employees
An employer in Ontario is allowed to offer different health benefits to different employees across the organization. Even employees in similar positions can be given different health plans. For instance, a travelling salesperson would find travel coverage beneficial; whereas a warehouse worker should be covered by accident coverage.
Can an employer discriminate in health insurance packages?
Employers cannot discriminate on the basis of: age, sex and marital status. It is also illegal for an employer to differentiate on the basis of pregnancy, or whether an employee is (or is not) the primary breadwinner in the household.
Benefits for an employee with a disability
An employer can treat an employee with a disability differently in a life insurance or benefit plan. Though, it must be shown that inclusion of the employee with the disability increases the risk assessment of group coverage significantly.
Employee with a disability excluded from benefits?
The employer must compensate the employee if he or she is excluded from employee benefits, pension or other group insurance. This payment must be the same as the amount the employer pays to the insurer for an employee without a disability.
Speak to an employment lawyer in Toronto to understand how you should structure your health benefits.
There is no law in Ontario that requires an employer to provide employee benefits to their full time staff in Ontario.
Is it legal to offer different benefits to employees?
An employer can provide different benefits packages to different employees. This can be done on the basis of organization hierarchy, differences in roles and for other reasons. Even employees working in the same team or department may have different health benefits plans.
What is a good benefits package?
Trying to figure what is a competitive benefits package for current and potential employees? Look at standards across your industry, in your city, and what your competitors are offering. Whereas benefits coverage previously was 'fixed', offering a flexible plan is a great option for many employers.
A standard benefits package will typically include coverage not provided by the Ontario Health Insurance Plan. This can include:
Dental coverage
Vision coverage (eye glasses and treatments)
Coverage for prescription drugs
Reimbursement for medical costs
Hospital stays
More advanced plans / optional add-ons will also cover
Short term and long term disability
Life insurance
Business travel
Temporary coverage after leaving the employer
Read more
Your pay stub explained | Ontario reduces severance pay | Asking for stress leave
Do employers have to offer full time employees benefits?
No, an employer in Ontario does not have to offer full-time employees any health benefits. However, once an employer offers health benefits, then it has obligations to continue with the plan or reimburse accordingly. Want to understand how you may be liable? Speak to a Toronto employment lawyer.
Even employees with disabilities are not entitled to health benefits
A person joining an organization can be required to participate in the company's health benefits. There are certain exclusions, however, when a new employee cannot be forced to join.
Can an employer take away your benefits?
If an employer offers health benefits to its employees, it cannot simply stop offering benefits. This can be construed as constructive dismissal – elimination of health benefits is equated to reducing the compensation paid to employees.
If an employer ends health benefits for its employees, it must compensate them accordingly. Speak to a team of employment lawyers in Toronto experienced in helping business owners structure their health benefits, without risking a lawsuit.
How much do benefits cost an employer?
The cost of health benefits for an employer depends on how many people will be covered; what coverage/plan the employer has opted for; and, the risk assessment by the insurance company.
No two employers will have the same cost of providing benefits to their employees. The working conditions, nature of work, and health of employees can affect the risk assessment – and policy premiums.
How to get health benefits at work?
Health benefits are considered part of the monetary compensation an employee receives. Very often, the value of the premium an employer pays for an employee will be listed in his or her pay stub.
Asking for health benefits (or an enhancement of benefits) is like asking for a raise. Any employee can ask for health benefits, but it must be negotiated with the employer.
If the employer does not offer health benefits to any employee, it may agree to provide additional compensation so the employee can procure insurance and health coverage on his or her own.
Can you ask for benefits instead of a raise?
If you didn't get the raise or promotion you were expecting, it may be worth asking your employer for health benefits instead. As mentioned above, benefits are equated with compensation. Asking for health benefits is like asking for a raise.
However, since an employer may already have a benefits plan, it may be cheaper for it to offer an employee benefits coverage than an outright raise.
Ask your manager/supervisor or human resources about getting benefits instead of a raise.
Are you a start-up, small or mid-sized business with full-time and part-time employees? Do you have freelancers and consultants working for you? Call Soni Law Firm and find out how you should structure your benefits plan. We help business owners and managers become 'great employers', and protect organizations from exposure to discrimination, dismissal and insurance lawsuits.